Floating Your Company on the Stock Market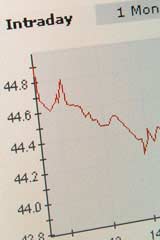 Many businesses develop rapidly over time with the view to eventually floating on the stock exchange. The stock market can also be a great way of raising finance if your business needs an injection of capital to expand or for new research and development. The financial implications of going public as floating on the stock exchange is often called must be looked at carefully to ensure your business can afford these costs and not damage its financial health.
Selling stocks in your business, and operating a public company is not ideal for all types of businesses. However, with investments in new businesses still being popular, selling stocks could be a great move for your enterprise. You can download a guide on how to join the stock market from the London Stock Exchange website: http://tinyurl.com/5b54c9.
The Stock Market
Investments made on the stock market use three basic markets:
The Main Market
This is the main stock market that most companies trade on. There are strict rules and regulations that all companies that want to join this market must comply with. This kind of stock investment tends to favour larger companies. You can download a guide to the admissions and disclosures your business will have to make before it joins the Main Market from the London Stock Exchange website: http://tinyurl.com/5b54c9.
AIM (Alternative Investment Market)
Created in 1995, this stock market is aimed at smaller enterprises. Any business can join AIM as there are few trading restrictions and regulations to comply with. You can download a complete guide to AIM from the London Stock Exchange website:http://tinyurl.com/5b54c9.
Two other stock exchanges that might suite your company are the techMark and landMark. The former is aimed at technology companies, with the later for companies in a specific geographical area that want to raise investment by selling stocks.
PLUS
This is a separate and independent stock market that is aimed at smaller enterprises that are looking to raise capital via their stock issue of less than £10m. The application procedure and regulations are not as stringent as the Main Market or AIM. You can learn more about PLUS on their website. There is also a handy overview of the PLUS market you can download from their website: http://tinyurl.com/5jjed8. Note that your financial adviser must be a member of PLUS.
Types of Investment
How your business issues its stocks to investors will depend on the type of stock offering you want to use. You have three basic choices:
Public Offer
This type of stock offering is the most popular for larger companies as it can attract large institutional investors as well as private individuals. This is the most expensive way of moving your business to the stock market, but is the most versatile.
Placing
If you have a very specialised business, placing is ideal as you can choose which people or organisations you offer stock in your company to. This way of offering investments is cheaper, and it gives you greater control over who holds stocks and shares in your business.
Introduction
With this type of investment you business would not receive any capital as this type of floatation is designed to help businesses raise their profile. As no stocks or shares are issued, no fees are generated making this the cheapest way of floating your business on the stock exchange.
Calculate Your Fees
You have to pay a charge to join the Main Market or the AIM market. The London Stock Exchange website http://tinyurl.com has a handy calculator you can use to estimate what fees your business will have to pay.
Moving your company to the stock market is a decision that should not be taken lightly. The fees and regulations that your business may have to pay and comply with can be complex. It is vitally important that you take professional advice at every step of the process to ensure you gain the investment you are looking for by selling stocks in your business. The financial and time commitment your business has to make can be substantial. If you ensure you understand the regulatory and financial consequences of offering stocks as investments in your business you will be able to successfully float your business on the stock exchange.
INVENTOR RESOURCE IS FOR SALE.
This website is for sale [more info].
You might also like...