Accidental Inventions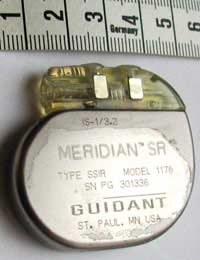 Many inventions occur as the result of an accident. But the word "accident" needs qualification.
This is because the person who observes the accident must have a receptive mind and be ready to follow up chance happenings. If an inventor is determined to pursue a certain goal, he or she may not notice the implications of an accident. The possibilities may pass him or her by.
The following are examples of accidental inventions. In every instance, the inventor had an open mind and was able to grasp an unexpected opportunity.
Microwave Ovens
Percy Spencer was an American engineer. In 1945, he was involved with making magnetrons. These produced microwave signals necessary for radar.
One day, Spencer found that a bar of chocolate in his pocket had mysteriously melted. He noted that at the time he had been standing next to a working magnetron.
Spencer speculated that microwaves had melted the chocolate. To prove his theory, he used microwaves from magnetrons to cook popcorn.
Following these experiments, Spencer developed a microwave oven.
Pacemaker
In 1960, Wilson Greatbatch, an American engineer, was working to make a device that could record the sounds of a fast-beating heart. By his desk, he had a box of electrical resistors.
Greatbatch put his hand into the box to extract a 10,000-ohm resistor. In error, he pulled out a one-mega ohm resistor.
Before he realised his mistake, Greatbatch had connected the one-mega ohm resistor to the circuit of his device. When he switched the circuit on, he noticed something very familiar about the vibration. The circuit pulsed for a period of 1.8 milliseconds. After this it stopped for a second. Then it pulsed again.
The circuit made a perfect reproduction of a heartbeat. From here, Greatbatch went on to develop the first pacemaker.
Penicillin
The story of the invention of penicillin is well known; but it still stands as a good example of an accidental invention.
In 1928, Alexander Fleming went on holiday. Before he left his laboratory, he failed to clean it properly.
When Fleming returned, he saw fungus on a number of his cultures. He also realised that bacteria didn't survive next to these cultures.
Fleming developed the fungus into the antibiotic, penicillin.
Safety Glass
At the beginning of the twentieth century, Edward Benedictus, a French composer, writer, painter and chemist, accidentally knocked a glass beaker from a shelf. The beaker broke. But it didn't shatter, as Benedictus had expected, into hundreds of tiny shards.
Benedictus investigated why this was so. He discovered that the beaker had contained cellulose nitrate. This chemical had evidently held the shards of glass together.
Benedictus quickly spotted the potential of glass that broke but did not shatter into separate pieces. His safety glass first appeared in World War One gas masks. Vehicle manufacturers then began to use it for windscreens.
Vulcanised Rubber
For ten years, Charles Goodyear experimented with rubber. His goal was to make a flexible rubber that withstood the effects of cold and heat.
While working in his laboratory in 1839, Goodyear had an accident. He spilled a mixture onto a hot stove. This mixture was made of rubber, lead and sulphur.
The heat from the stove didn't dissolve or burn the mixture. Instead it created a tough but pliable material.
Five years later, Goodyear patented his discovery. His vulcanised rubber proved ideal for vehicle tyres, the soles of shoes and many other uses.
You might also like...