Inventing for Charity: A Case Study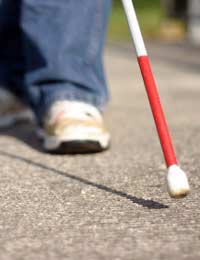 Ten years ago, Ray Meadows' sight began to fail. He had to take early retirement from his job, and within a year was on the local council's register of blind people.
Undeterred, Ray became an inventor. Working from a shed in his garden, he now produces ideas and prototypes to help the blind and disabled.
A Change Of Life
"In a sense, I had a head start as an inventor. I'd worked for most of my life as an engineer, designing and improving farm machinery. I'd also built a well-stocked workshop behind my house. I enjoyed tinkering with mechanical bits and pieces in my spare time.
"I also knew something about blindness. My wife, Doreen, had been blind since childhood. As a result, I understood the problems blind people encountered daily.
"So when my own sight began to fail, and I was forced to stop work, I had a few ideas I wanted to pursue. Fortunately, I still had limited vision in my right eye. And I knew my way round my workshop without a particular need to see where I was going. I therefore felt I could contribute something despite my disability.
Support
"Through Doreen, I contacted the local charity for the blind. They put me on to their national coordinator – in fact, he came down to see Doreen and myself.
"I explained that I had some ideas for inventions that might help the blind. I asked if the charity would be interested. I wasn't looking for money: I just wanted to know if the charity would give me moral support, as it were. This way, I knew I wouldn't be wasting my time.
"The coordinator, Jack, was enthusiastic. He said there were grants available, and if I changed my mind about financial support, I should speak to him. He also said that the charity would back anything that helped the lives of the blind.
Ideas
"This gave me the confidence to mention a couple of my ideas. Jack liked them both. I then said that I'd be happy for the charity to take all the profits.
"Jack advised me to hang fire on that. After all, I might want money to improve my workshop facilities.
"We left it that I would produce some prototypes. Jack would then take these to the charity's governing body. Not only could the governing body test the idea with members, they had all sorts of contacts in manufacturing and business, and could produce and sell the inventions if they were any good.
Prototypes
"I started work on my two prototypes – a device for helping blind people use sewing machines, and a gadget that helped with food preparation.
"Both Doreen and I tested the prototypes at home, so I was reasonably happy with the finished articles when I sent them to Jack. Within a month, he rang and said the charity was keen to build and promote both inventions.
"Doreen and I were delighted. I arranged for the charity to produce the inventions under their own name. I also said I'd take 25% of the profits to expand my workshop.
"That was the extent of my business dealings in the matter. With the two prototypes finished, I pushed on with other ideas.
Advice
"I'm not one for handing out advice, but if you want to invent for charity, speak to someone first as I did. You'll get an idea of the level of financial and general support you can receive.
"As for the business side, I was lucky because the charity I worked with has a lot of experienced members and contacts. Other charities might not be the same, so you may need to do a bit more research on that side of things."
You might also like...
Hi, I am very willing to help with these ones. I've made a motor that runs without fue But I do not have enough money to produce. Could help you if you are willing to dedicate a portion of profits obtained his loved ones.
reza
- 26-Sep-12 @ 4:47 PM