Inventing Toys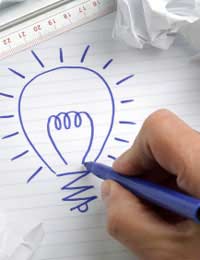 Inventing toys is fun but an inventor has to be tenacious, patient and objective. Success doesn't always come easily.
Ideas
The starting point, of course, is to have a good idea. One technique for generating ideas is to stroll along the aisles of a major toyshop. Study what's popular. Examine the materials a company has used to make a toy. Think of the children who might play with a particular toy: what's the age range? Is a toy for boys, girls or both? And consider the educational as well as the fun aspect of a toy.
This technique doesn't stop here, however. Look for a fairly basic toy on the shop's shelves. Perhaps the toy is traditional and one that's been around for many years. Then think how to improve this toy by making it more fun.
This is a useful exercise. Many new toys are variations on an old theme.
But even if an inventor already has an idea for a toy, he or she should still visit a toyshop. The purpose is to see where a proposed toy fits in among all the others. And it's worth taking the opportunity of such a visit to make a list of toy companies.
Prototype
The next stage is to commit the idea for a toy to paper. Then, if possible, build a prototype.
The great thing about a prototype is being able to give it to children to play with. An inventor can then iron out any problems and make improvements.
A prototype must conform to health and safety standards, though. There should be no potentially dangerous parts to the toy or hazardous materials. The Department for Business, Innovation and Skills has further details of the safety standards for toys in the UK.
Submitting an Idea
All of this research is invaluable. When an inventor feels confident enough to submit an idea to a toy maker, it's wise to mention in a covering letter all the development work that's taken place. The toy maker will appreciate such a thorough approach. The company will also realise that the inventor takes the business of creating new toys seriously.
To show his or her professionalism to a toy maker still further, an inventor must allow a few weeks to go by before chasing a reply to a submission. Toy makers receive a lot of ideas. And if a company is interested, there's an approval process involving several people.
In other words, an inventor must be patient. By all means make an enquiry with a company after a few weeks have passed. But keep this enquiry short and polite.
Unfortunately, most toy inventors suffer a series of rejections. Some of these come in the form of standard letters. Such letters don't contain any clue as to why an idea isn't suitable.
Persistence
But whether a toy maker gives helpful hints or not, an inventor must persist. The toy market is competitive. Ideas must stand out. And even a great idea may not fit in with a particular company's approach.
An inventor shouldn't give up on a rejected idea. Consider whether he or she has missed something. Is the idea too complex? Will the toy be easy to make? Is it durable? Then an inventor should try submitting the idea to another company. A tenacious attitude and patience can pay off.
You might also like...