Overseas Trading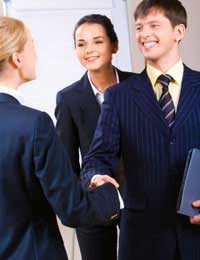 You have been successful with your invention, copyrighted and patented it, started up your own business and now planning to roll out your product for sale overseas; what should you do? What shouldn't you do? Here we look at the perils and pitfalls as well as the benefits of trading overseas.
What is the Best Way to Trade Overseas?
If you have already begun to sell your product in your own country – let's suppose you are in the United Kingdom – then if you plan to sell overseas you need to have a strong customer base at home.
It is important to remember that while you are looking for new clients you should have existing ones that will continue to supply you with orders than will allow the cash flow to continue whilst you endeavour to break into the overseas market.
It is essential to have an overseas partner; someone who has contacts in the countries in which you plan to launch your product and someone who has a network of distribution points which can stock and ship your product thus keeping shipping and delivery costs down.
One of the greatest costs incurred when selling abroad is shipping and a distribution network in or near to the countries you are targeting is always an advantage.
Taking on a Partner Abroad
If you have a partner abroad then he, she or they will want a percentage of everything that is sold; this helps to cover their costs and also to make a profit for them. This is important – remember this is why you are in business too – to make a profit.
Your partner should be someone with a proven business background and someone who has the knowledge and know how to sell in countries you are not familiar with. They should also have – as we have already mentioned – a distribution network, transport and staff to deal with orders coming in etc.
Trading Abroad
When trading abroad there are financial considerations to take on board as well; for example if you are trading in Europe the conversion rate of the pound against the Euro is something you should be aware of everyday; this is important when buying and selling in the European Union.
How you pay your VAT and Corporation Tax will change as well – especially if your base of operations is in the United Kingdom – for this you should be employing the services of an accountant who has a history of dealing with overseas companies.
Patents and Copyrights
Before selling or contemplating the sale of your invention abroad you should ensure that all patents and copyrights are in place before you do so. It is not unheard of for inventors to market their products abroad before patents and copyrights have been issued – when this happens it makes it much easier for counterfeiters to reproduce your design and sell it as their own.
Speaking the International Language of Business
Everyone wants to succeed in business and to succeed in business you must be on top of things at all times. It is important to have someone with you that you can trust and where possible someone who can speak the language. Likewise it is important to build up a relationship with your overseas partner – visit their premises when you can and vice versa. A healthy level of communication is key to success and also to the survival of your business.
You might also like...