Visiting Trade Fairs with Your Invention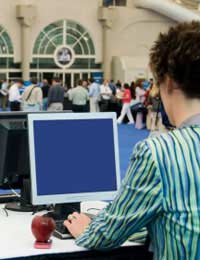 You've put together your invention and are happy that the prototype works and is viable as a saleable product so how do you encourage others to share both your enthusiasm and their financial backing? One way is to advert at trade fairs.
What is a Trade Fair?
A trade fair is quite simply an exhibition at which a set number of companies or businesses offer other companies and businesses the chance to see their new products and services in action and also to network. These fairs – and there are many hundreds of them in the United Kingdom every year – offer a unique one to one chance for companies who might never come into contact normally to meet and get a feel for what each of them have to offer.
Can Anyone Exhibit at a Trade Fair?
The answer is yes anyone who has a new invention that they wish to market or simply show to a prospective market sector can exhibit. Each trade fair will have a set number of stands allocated each year and as a company or sole trader you can purchase – or lease – a stand of your own.
Trade fairs also offer the potential for new companies to give seminars and lectures to other companies present as to what they have to offer and can arrange group demonstrations as well.
What About Networking?
Many companies send representatives to trade fairs simply to 'network' 'Networking' is quite simply the process of meeting other representatives from other companies and introducing your company and their products to a wider audience. Even if you don't manage to sell anything at a trade fair the exposure it can give you as a budding business and the number of new contacts alone can make the money spent on a stand well worth while.
Will a Trade Fair Generate New Business for Me?
There are really no guarantees with trade fairs that they will generate new business for you. Well certainly not straight away anyway. The important thing to remember about trade fairs is that they are designed initially as a meeting ground for likeminded businesses and companies to meet on a face to face level and also to display and demonstrate their new products without having to spend vast sums of money on expensive advertising.
I'm Planning to Attend a Trade Fair – What Should I Take?
It is essential that you have a hefty supply of business cards with you. Business cards are past around freely at trade fairs and it is widely accepted that anyone who attends a trade fair should come away with a raft of business cards and some promotional material.
Prepare a double-sided flyer for your stand as well. This flyer should document clearly and concisely the nature of your product as well as its advantages and applications.
If possible take another person with you so that you can demonstrate your product while they hand round flyers and business cards and collect business cards from those who have gathered to watch your demonstration.
What Should I Do After the Trade Fair?
Normally about a week to ten days after the trade fair it is a good idea to contact all those individuals who have supplied you with business cards and literature while you were there. This is a good way of making sure they remember you and it also shows that you are keen to do business with them. Collate your results in a database and perhaps once a month give those people a call just to remind them of who you are and what you have to offer. This also ensures that you stay fresh in their mind especially if they have a requirement for a product like yours.
You might also like...