Test Your Knowledge of Inventions: Quiz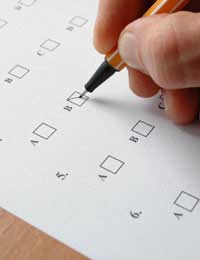 The world is full of inventions, but how much do you really know about them?
By studying inventions, you come across a world of historical facts that have shaped society.
You also uncover fascinating stories of individual inventors' skills, inspiration and struggles. These stories can give you confidence to proceed with your own ideas.
Below are some questions relating to some of the most popular inventions in use today. Test and rate your knowledge now.
Questions
1. In 1938, two Hungarian brothers patented a new invention. What was it and who were the brothers?
2. Who invented the first usable photographic process in 1839?
3. What was Christian Huygens' contribution to the development of clocks?
4. Who were the first people to use a magnetic compass, and when?
5. What did Alfred Noble patent in 1867?
6. Who invented the process of quick-freezing food?
7. The first glue patent appeared in 1750. What was the principle ingredient of this glue?
8. Who invented email, and when?
9. What did the chemist John Walker invent in 1827?
10. What did Dr Martin Cooper of Motorola manage to do in April 1973?
11. Leonardo Da Vinci drew pictures of parachutes, but who invented the first folding parachute in 1793?
12. Guglielmo Marconi successfully sent and received a radio signal in 1895. Name one other inventor who had conducted work on radio waves before this.
13. Thomas Saint obtained the first patent for a complete sewing machine in what year?
14. Many inventors have helped develop television, but what was Paul Gottlieb Nipkow's contribution?
15. Although umbrellas in one form or another have been around for thousands of years, who invented the first steel ribbed version in 1852? Also, what materials did European manufacturers use for umbrella ribs before steel?
16. Who invented the first portable electric vacuum cleaner in 1907?
Answers
1. The ballpoint pen (one point). The brothers were Laszlo and George Biro (one point).
2. Louis Daguerre (one point). In 1827, Joseph Nicephore Niepce had made the first known photograph, but it required eight hours of exposure to light, and quickly faded away.
3. Christian Huygens invented the pendulum (one point). The pendulum improved clocks' accuracy.
4. The Chinese (one point), around 200 – 220 BC (one point).
5. Dynamite (one point). This followed Noble's 1863 patent for a nitroglycerin detonator.
6. Clarence Birdseye invented the quick-freezing process for fresh food (one point). The public could buy quick-frozen food for the first time in 1930.
7. Fish (one point). In succeeding years, other patents appeared for glue made from material such as starch, milk protein, and rubber.
8. Ray Tomlinson, a computer engineer working on Internet –based projects, invented email (one point). He did so in 1971 (one point).
9. John Walker invented the first friction match (one point). He used antimony sulphide, starch, gum, and potassium chlorate. Walker called the matches Congreves, but did not patent his idea.
10. In 1973 Dr Cooper made the first phone call on a portable cell phone that wasn't located in a car (one point). The use of car phones by the police began in 1947.
11. Jean Pierre Blanchard (one point). Sebastien Lenormand invented the first practical parachute in 1783 but it had a rigid frame. Blanchard created his parachute from silk and could fold it.
12. James Clerk Maxwell wrote about radio waves in the 1860s. Mahlon Loomis made a successful experiment with what he called wireless telegraphy in 1866. Heinrich Rudolph Hertz proved the existence of radio waves in 1886 (maximum one point).
13. 1790 (one point if you answered within five years either way). Nobody knows whether Saint actually built the machine.
14. In 1884, Nipkow created the technology to send pictures via wire using a rotating disc (one point).
15. Samuel Fox (one point). Before steel, European umbrellas used ribs made from whalebone or wood (one point).
16. James Murray Spangler (one point). William Henry Hoover began commercial production of Spangler's idea in 1908.
Your Score
16 – 19 points: your knowledge of inventions is impressive. Use it to inspire and direct your own ideas. After all, inventing may seem a lonely business at times, so it's good to know you're working in a vocation with a long tradition behind it.
11 – 15 points: make time to brush up on your knowledge of inventions. The more you know, the more experience you can feed into your own creative process. There's a lot of information about inventors in books and on websites, so take advantage of it.
Fewer than 11 points: it's time to make a serious study of inventions. Understanding the history of inventions, including the setbacks, can help you with your current projects. It can also act as a generator for other ideas.
You might also like...