How Do I Raise Money for an Invention?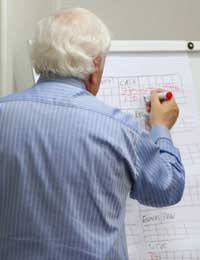 The initial funding for independent inventions normally comes from 'friends family and fools', but once this is exhausted, and you need to progress to the next stage of development, you will need to find other funding.
Grants
There are a number of publicly funded grants available for innovative businesses, some of which can be applicable to inventors. The most common government innovation grant programme is the DTI Grant for Research & Development, formerly the SMART scheme in England, and still known by this name in Scotland, Wales and Northern Ireland. In each region, it is run by the regional development agency (RDA) or equivalent, which makes the decisions on how the grants are awarded.
There are two levels of grant suited to independent inventors, and each will require some funding commitment from the applicant, aside from the grant. 'Micro projects' are described as 'simple low-cost development projects lasting no longer than 12 months'. With a maximum grant of £20,000, this is probably the most appropriate for inventors starting out with the development of a new product. 'Research projects', lasting 6-18 months, can receive a maximum grant of £75,000, with the aim being 'to investigate the technical and commercial feasibility of innovative technology'. For more radical inventions, perhaps using new materials or advanced technology, or involving external partners, these are appropriate.
Each RDA has its own priorities within its area, but what is clear from all the RDAs' guidelines is that a business plan is essential. You need to demonstrate what you will be spending the grant on, and how that will progress your invention's development and help establish a business based on it. Equally, your invention needs to be 'innovative' — and the RDA may require you to demonstrate that this is so. At the very least you should have started the patent application process before applying for the grant.
Loans
Do not re-mortgage your house in order to pay for your invention, no matter how brilliant it may seem. If one piece of advice comes through clearly time and time again from inventors who've 'been there', it's this.
Small business loans are suitable, however. By presenting yourself as an entrepreneur — a businessperson looking to involve the bank in a mutually profitable relationship (even if you think of yourself as a 'garden-shed-in-your-spare-time' inventor) — you stand a good chance of receiving a favourable loan. If your business takes off, quite apart from the interest on the loan, the bank will want to have you as a customer, since business banking charges are a significant proportion of banks' income. From your point of view, having an advisor at the bank who is also dealing with a number of other small businesses at various stages of development may also allow you to learn from their trials, tribulations and successes.
The important part, then, of getting a favourable loan, is to prepare a credible business plan which presents your invention in a commercial context. This is not easy, since so many variables are unknown at this early stage, but there are some excellent guides and advice sessions available from local Business Link organisations as well as the banks themselves. You will need to consider how much ready cash you will need to pay for the next stages of the invention's development, outline clearly what stage you're at, and what the subsequent stages will be.
Venture Capital
Venture capital is most often appropriate for inventors who have made significant progress with their invention and are well on the way to turning it into a successful business. In this sense it should not be seen as a first option for funding your invention. Venture capitalists, or private equity financiers, are looking to make significant returns on the money they invest — which typically belongs to others, as part of a fund — and clearly want to maximise the upside of the risk while minimising the downside. They want to invest in a business — an enterprise rather than an idea — and will generally look to exit within around 3 – 5 years. They'll question you in detail about every aspect of your invention, your business plan, your strategy, your competencies, and who is going to be managing the business. If you haven't applied for a grant, they'll want to know why. If you haven't got watertight intellectual property protection, they'll want to know why — and most likely will reject your proposal.
You might also like...
hi i have sent an invention to davison in america and it is at the stage of being shown to a company that they have targeted they say that the next stage will cost me between $7000-$15000 is there anybody that can help me to finance the next stage i want to see the invention through to the end which could change my life but at the moment i have come to that brick wall and need a little help to break through to the end i am unemployed and it could take me years to paybut i am determend to do that but if the help is there i would be so grateful
brido
- 14-Sep-12 @ 3:57 PM