Accounting Practices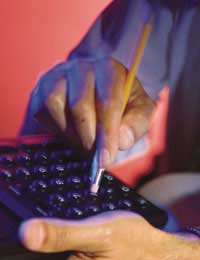 Accounting Practices are a generally accepted set of rules - or regulations - that you must follow if you wish to submit yearly accounts relating to your endeavours as a sole trader or limited company. These practices are what could best be described as an 'industry standard' and are employed by most businesses and individuals when putting together annual accounts for submission to their accountants, the Inland Revenue (now Her Majesty's Revenue and Customs) and Companies House.
Accounting Software
In today's fast moving age of technology most of our accounting needs are catered for using computerised accountancy software. This software allows us to enter our invoices to customers, invoices from suppliers, VAT amounts (if we are VAT registered) and details of all our incomings and outgoings.
There are many different types of accounting software available on the market today and many different ways in which they can be used but for the most part they offer the following functionality - in line with the needs of accountants, Her Majesty's Revenue and Customs (HMRC) and Companies House.
They include:
Profit and Loss
Balance Sheet Reporting
VAT
Employee Salaries
Wastage
Debtors Lists
Credit Control
Common Accounting Practices
Many of the aforementioned computerised accountancy packages implement the common accounting practices that have been used for a long time within the realms of business - be it a small business run by two people or a multi-million pound a year conglomerate operating around the globe. These accounting practices - as we have mentioned - are all geared towards ensuring that all avenues of your business' financial history are explored so that there can be no chance of mistake. This is as much for the benefit of the business as it is for those institutions which seek to monitor how your business is run.
Accountants
If you are unfamiliar with - or indeed uncomfortable with - conducting your own accounts then you can employ the services of an accountant who will look after all of the aforementioned aspects of your business for you.
An accountant is a qualified individual who is able to 'sign off' on your accounts at the end of the financial year. This means that he - or she - is confident that your accounts are correct and that you have during the course of the financial year conducted your business correctly and paid all relevant duties and taxes to the relevant authorities.
Bureaus
A 'Bureau' is similar to an accountant but will also look after the paying of invoices, the collecting of debts and the paying of your employees. This can be best described as 'a one stop shop' for your accountancy and financial requirements and is paid for on a monthly, quarterly or annual basis.
A 'Bureau' will also produce your VAT Returns, P45s and end of year P60s for your employees.
Whether a sole trader or a limited company it is important to have one of the aforementioned systems in place so that your business runs smoothly from a financial perspective. It is not uncommon for businesses to fall into disarray if their financial requirements are not properly administered to and the use of common accounting practices is the best - and easiest way - to ensure that from a financial perspective all is well; thus leaving you with the freedom to concentrate on running your business and helping it grow.
You might also like...