Becoming an Entrepreneur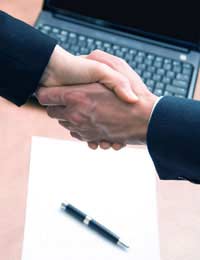 Thinking of yourself as an entrepreneur rather than 'just' an inventor is a necessary step on the path to success. Or perhaps more accurately actually becoming an entrepreneur is the important bit. If you don't act as a businessperson, and follow the patterns of successful business development, you will find it difficult to turn your invention into a business.
Creating Value
Unlike many other businesspeople, though, you're a creative individual. You've 'created value' out of nothing, by inventing something, and this 'disruptive innovation' is something that many existing businesses have found it difficult to reconcile with the way they work. As an entrepreneurial inventor, you are not just a businessperson, but a different kind of element in the marketplace, and you can't rely on a steady salary and expense account. The creativity that helped you come up with your invention needs to be transmuted into a dynamism which will push you forward through the tough times as well as the good.
Business Partner
Many great inventors have recognised that they needed to find an entrepreneurial business partner, or one with experience of growing a business, to help them develop their work commercially. James Watt and Matthew Boulton are a famous example of this, with one doing the inventing and responding to the market demand identified by the other. Equally, though, there are numerous cases of inventors doing it for themselves, with varying degrees of success. But it's very rare for an individual to have all the skills needed both to invent a new product and turn it into a business, and so if you don't partner, it is wise to build up a relationship with a mentor (for example via your local Business Link organisation) who can give advice and point you in the direction of others who can fill your skills gaps.
Finding a Good Mentor
Finding a good mentor, then, may be an important catalyst which helps you transform from inventor to entrepreneur. But you may need to change yourself, as well. Among other qualities, entrepreneurs need to be:
Confident about the product (for it is no longer an invention, it is a product) and the business that is being created, and charismatic in promoting it.
Dedicated to the business, willing to put in a lot of time, effort and energy for returns which may take a long time to come.
Able to network, develop contacts (potential customers, potential business partners) and, most importantly, follow up on them.

It's clear that this isn't easy, and a mentor can only help so much with this. Even entrepreneurial inventors as diverse as Nikola Tesla and Bill Gates, while perhaps initially appearing unsociable and dedicated to their work, were able to give almost evangelical presentations when demonstrating their work (and business opportunities) to others. Many inventors have a drawer full of business cards from attempts at networking, but do not follow up on the wealth of opportunities which might exist.
Confidence
When starting out, and with the invention perhaps not perfected, it can be difficult to have the confidence needed for real entrepreneurship. Building confidence can come through simple activities such as working out an elevator pitch (how you would 'sell' your product to someone during the short time spent together in a lift), or 'mocking up' a future brochure for your product: how you would envisage the product looking and how you would sell its benefits to customers. This can also focus your inventing efforts, since you may realise (looking from a customer's point of view) that there are features which could be added or changed to make the product much mort attractive.
An entrepreneur is always looking for ways to make the most of any situation: both optimist and opportunist, we might say. An inventor, alone, may create opportunities, but it is only in making the most of them that he or she becomes an entrepreneur.
You might also like...