Product Development Stages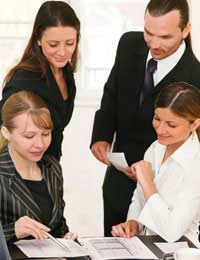 Turning their inventions into products is the goal of most inventors and goes hand-in-hand with the inventors themselves becoming entrepreneurs. This process of developing from invention to product necessarily varies considerably depending on the item in question, but it's possible to identify a number of stages which can apply to most inventions.
Defining the Specification
By their very nature as the result of insights or inspiration, the early stages of an invention are often a little chaotic (or at least, 'non-linear'). You may have ideas springing up left, right and centre for how you are going to develop your idea, and what features the invention could have, and so on. If your invention results from a technical insight, you might already have a good idea of how you're going to accomplish whatever function the invention will provide, but in many cases, inventions are driven by the recognition that a problem could be solved, rather than actually having the solution from the start.
Regardless, the best way to get the ball rolling is to start to put together a Product Design Specification (see article 'Product Definition and Specifications' for more details) which addresses how your invention will fit into the commercial world of products. A PDS aims to be 'a total description of a product at any given time in its development', so it's especially suitable for inventors following a product's development through from conception to production. It's not at all complicated, but does require that you think carefully about many aspects of your invention, and see it as a product, with customers and users rather than simply your 'baby'. Effectively, a PDS sets out all the requirements that a product has to fulfil — a set of necessary conditions for success.
You will need to consider exactly what your invention must do — what features it will provide, and how these will translate into benefits for the customer. The PDS method calls this 'performance': What must your invention be able to do reliably and consistently? It may make sense to approach this starting from the benefit angle, and working back to exactly what functionality will be required to deliver those benefits. If you're having trouble with this, think of the 'elevator pitch' you'd use to sell your idea to an imaginary stranger you meet in a lift. If you only had time for two brief sentences to 'sell' your invention, what would you say?
Prototyping and Visualisation
Once you know what your invention will need to achieve, functionally, it is time to start prototyping. This will usually start with a 'proof of principle' prototype, which demonstrates the functionality of the invention. If your invention has a number of functions, you might build a number of proof of principle prototypes: they are generally built without aesthetics in mind, and are technical 'testbeds'. With inventions in the consumer electronics field, the proof of principle prototype may be much larger than the envisaged real product, due to the difficulties of producing miniaturised electronics on a home-made scale, but potential investors and experienced manufacturers will be well aware of this kind of issue. Your proof-of-principle prototypes need to be robust enough that you can use them to demonstrate your invention.
Together with the proof-of-principle prototypes, which will probably evolve considerably as you test and refine your invention, it is increasingly important to prepare a visualisation of what the finished product may look like aesthetically, well before you are actually at this stage. Realistic illustrations (or photographs of aesthetic models), ideally showing the product 'in use' can be extremely persuasive to lenders, investors, potential licensees, grant-awarding bodies and so on. By allowing interested parties to envisage your invention as a real product, with real users, alongside your demonstrations of the proof-of-principle prototype's functions, you stand a much greater chance of success than simply having one or the other.
Pre-Production Prototypes
Depending on the route to market you take (going it alone, licensing your rights, or selling the rights outright), you may well undertake the next stage in conjunction or cooperation with a manufacturer, or independently, but the principle is much the same: you need to design (and probably make a prototype of) the product which brings together the functionality of your proof-of-principle prototypes (but using the actual components that the real thing will use) and the appearance of your aesthetic visualisations. This will enable you to produce a 'Bill of Materials' (BOM): a listing of what components your product uses, which need to be bought in and which need to be manufactured especially for it. The BOM allows you (or your partners) to obtain quotes from manufacturers and suppliers, and effectively to set what the retail price can be (based on the production costs and necessary margins).
If the pre-production prototypes are good enough quality, they may also be used for user-testing, marketing campaigns, brochure photography and so on. Once approved, production can begin.
You might also like...