From Idea to Reality: an Inventor's Checklist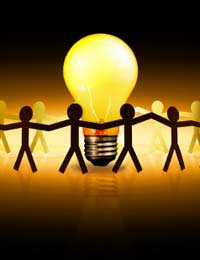 The process of invention begins with an idea and ends with a finished product. Along the way, there are various stages. An inventor has to handle these directly, or monitor progress.
This checklist aims to help inventors with the process of invention. Tick the circle on the right when you've completed each stage.
Checklist
1. The Idea.Write down your idea. This helps focus your initial thoughts. O

2. What Does It Do And Who Might Be Interested?
Ask yourself what your proposed invention does. What problem does it solve? How does it solve it?Also speculate about who might be interested in your invention. What businesses or members of the public might use it? Write down your thoughts. O
3. The Spec.
Write down the technical specification of your proposed product. This will help establish your idea's practicality. O
4. Initial Market Research.
Conduct research of similar products and note why your idea is different. Even if your idea is unique, find out more about the sort of people who'll be interested in it. Carry out your research online, in shops, and by using whatever contacts you have. O
5. Product Assessment.
Initial market research leads straight to product assessment. This is when you work out as accurately as you can how much the product will cost to make, how much people are prepared to pay for it, and how much profit there's likely to be. There are companies who can help you with this part of the process. If you can do it yourself, so much the better: you'll develop a clear idea of potential problems, and possible success. O
6. Working Prototype.
Many inventors build working prototypes of their ideas. This is a great way of ironing out early glitches, and preparing your application for a patent. O
7. Protection.
This is when you protect your idea and prototype by using the provisions of the Copyrights, Designs and Patents Act 1988. For details, read the article elsewhere on this site. If you want to share your idea and prototype with others to test their reactions, consider asking them to sign a non-disclosure agreement (NDA) first. O
8. Licensing/Business Start-Up.
Experienced inventors will know whether they want to take the licensing route for their ideas and receive royalties, or build their own businesses around the ideas. If in doubt, read the relevant articles on this site for advice and guidance. The next stages if you opt for licensing are at 9 and 10 below. If you choose to start your own business, see 11 – 15. O
9. Licensing: Selling The Idea.
A licensing company may want to see or hear a sales pitch for your idea. Prepare this thoroughly. Include all the positive information you've gathered so far from steps 1 to 7 above. O
10. Licensing: Checks On Progress.
Ensure you know what the licensing company intends to do, and when. Run any proposed agreement between you and the company past a solicitor. This way, you avoid any misunderstandings between you and the company. O
11. Business Start-Up: Business And Sales Plans.
Write your business and sales plans, involving an accountant and business partners as necessary. There is further advice on this website. O
12. Business Start-Up: Market Research.
Build on your initial market research and conduct a thorough market survey for your proposed product. Specialist market research companies can assist if necessary. O
13. Business Start-Up: Raising Money.
You may have to raise money before you conduct your market research. If you can manage to do the research before you make a sales pitch to potential investors, however, so much the better. If not, refer to your initial research (step 4).When you're asking for money to start a business, cover everything you can think of. Also be prepared to invest some of your own cash, and to look for money from different sources. O
14. Business Start-Up: The Production Process.
Once your business is up and running, maintain control over the production process. If problems arise, you want to be the one who makes changes to your product, not someone else. Where possible, ensure that any business agreements give you the ultimate say in decisions affecting your product. O
15. Business Start-Up: Marketing.
You may not be a marketing expert, but you don't want incorrect sales decisions adversely affecting your product. Once again, ensure that any agreements with marketing companies and staff allow you to have your say. O
You might also like...