Finding a Manufacturer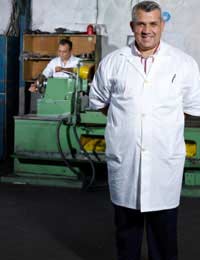 Once an inventor has generated interest in an invention, and secured financial backing, he or she must consider how to manufacture it.
If an inventor has sold the rights to an invention, or is content to let someone else handle manufacturing and marketing in return for a royalty, this issue may not arise.
But many inventors either set up their own companies to control a project from start to finish, or ask to be involved with every step of the process. An inventor in this situation must therefore find a manufacturer.
Manufacturing in the UK
Manufacturing any new item can be complex. But there are three critical points to first consider: cost, quality and flexibility.
Cost relates partly to location. An inventor may wish to keep a close eye on the manufacturing process. He or she may also want to support the local economy. For these reasons, the UK may be the chosen location for manufacture.
This can be a bold decision. An inventor can ensure quality in the UK; but he or she may have to accept high costs. It is often cheaper to produce an invention elsewhere, particularly outside Europe and America.
Manufacturing Abroad
The most popular country to consider for cheap manufacturing is China. Initial communication with Chinese factories is straightforward. The trade section of the Chinese Embassy can supply a list of contacts. An inventor can then make a first approach by email.
Language isn't a problem. The Chinese value business from the UK and other English-speaking countries. Factory owners ensure all communication is in English.
Similarly, an inventor can supply the technical specifications for a product in English. It's wise, though, to make sure these specs are as thorough as possible.
Visit
This is when it's best to visit the country chosen for product manufacture. Seeing factories and staff, and discussing specifications and material quality, is essential.
An inventor who makes such a trip should ask to see samples of the plastics, metal, rivets and screws proposed for a project. And it's helpful to ask for examples of products a factory has made in the past.
When visiting foreign factories, an inventor should also enquire about methods of payment and delivery. All these issues should go into a contract once a factory has proven that it can make an inventor's product. A UK solicitor with experience of foreign manufacture can provide further advice.
In this way, an inventor can settle any concerns about cost and quality. But there's still the matter of flexibility to deal with.
Flexibility
Business and trade is a fast-moving world. Prices change and competitors enter new markets. An inventor needs to be sure a contract does not include a commitment to the same manufacturer for too long a period. An inventor also needs a contract that doesn't penalise requests to modify a product at short notice or increase production.
Established factories are used to these issues. Even so, any contract must make an allowance for the flexibility an inventor may need to keep a product innovative and reasonably priced.
An inventor who wants to be involved with finding and using a manufacturer must be prepared for such matters. They can be complicated but not impossible to resolve. And they may take up a lot of time and effort. But the outcome can be very rewarding.
You might also like...